Our campus has been pretty intense lately. Following student protests and faculty criticism, our system president and university chancellor have stepped down. Our head football coach has announced his plan to retire because of health problems. And the eyes of the world have been upon us as we've tackled weighty topics such as racism, civil liberties and educational leadership — loudly and quietly, in solidarity and in conflict.
The week before Thanksgiving, after the camera crews dispersed, we got back in the game, hit the books and gathered together. And we've seen a definite uptick in hugs. Here's a look at what happened at and around Mizzou.
1. We won a football game.
Mizzou defeated BYU in Kansas City's Arrowhead Stadium Saturday, Nov. 14, improving this season's record to 5-5. It was the first time the Tigers had played in Kansas City since 2011, when MU beat KU. The team showed off chic new uniforms, and fans, in black and gold, showed off Tiger spirit. Photo by Shane Epping. (Check out these photos!)
2. We marched for peace and inclusivity.
Mizzou Kemper Fellows, faculty members recognized for teaching excellence, helped organize a peace march Sunday, Nov. 15. Accompanied by students, allies, friends, kids and dogs, the group met in Peace Park and walked to the Gaines Oldham Black Culture Center on the breezy 65-degree fall day. Local high school students carried a banner, and Mizzou tutor Traci Wilson-Kleekamp (above, center) fired up the crowd. Photos by Michael Cali.
3. We honored Gary Pinkel.
On the heels of head football coach Gary Pinkel's announcement that he's stepping down from his job to take care of his health, on Monday, Nov. 16, Mizzou held a celebration of the beloved coach and his legacy, which includes a record 118 wins. Pinkel was diagnosed with lymphoma earlier this year. All week Tigers came together in an outpouring of emotion. Photo by Shane Epping.
4. We welcomed Hank Foley and Mike Middleton to their new jobs.
Monday marked the beginning of our interim leaders' first full week on the job. Former MU Deputy Chancellor Mike Middleton came out of his (very brief) retirement to take over duties as interim president of the UM System. He shared these thoughtful remarks. Hank Foley, MU's vice chancellor for research and graduate studies — and the UM System's executive vice president for academic affairs, research and development — took over duties as interim chancellor. He sent us this thoughtful note. Good luck, sirs. We're rooting for you. Photo by Shane Epping.
5. We turned out in droves for a teach-in.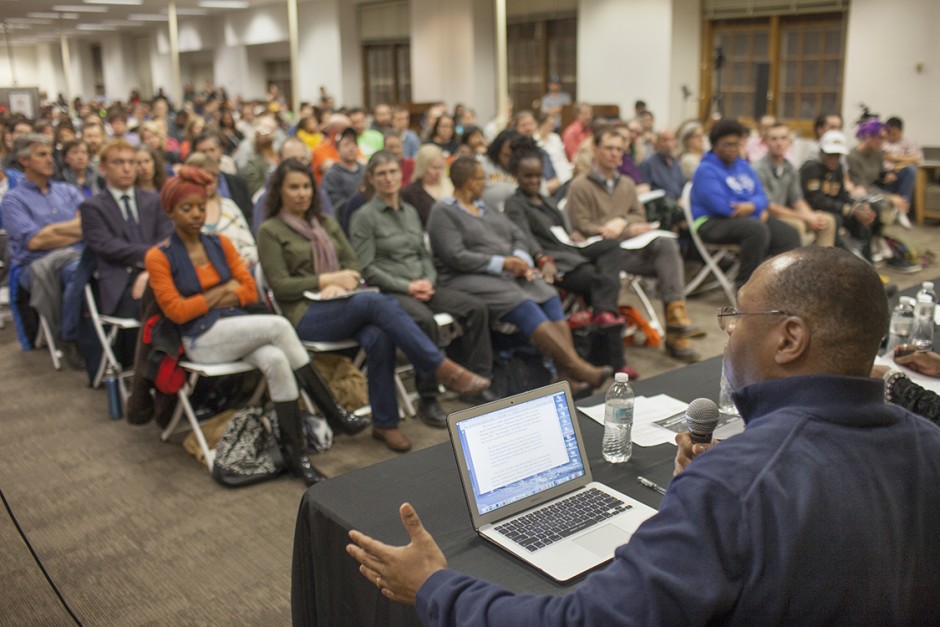 Hundreds of Tigers — students, faculty, staff and administrators — packed the sizable Room 114 of Ellis Library Monday, Nov. 16, for a teach-in addressing race at Mizzou. The panelists, 11 professors from multiple disciplines, gave historical context for the recent student protests and issued calls for more mentoring, better communication and improved involvement in social justice at the ground level. Law professor Chuck Henson (with microphone), Mizzou's new interim vice chancellor for inclusion, diversity and equity, discussed the legal underpinnings of discrimination. Photos by Rob Hill.
6. We got caught in the rain.
Students splashed through puddles between classes early in the week. A torrential downpour drenched Columbia Monday and Tuesday, with rainfall totals exceeding 4 inches by Tuesday night. Did you know? You can check out an umbrella from Ellis Library using your Mizzou ID card. (Just remember to return it.) Photos by Shane Epping and Mikala Compton.
7. We shared snapshots from around the world.
During the Study Abroad 20x20 event Tuesday, Nov. 17, students recapped their study-abroad experiences, narrating slideshows of 20 photos for 20 seconds each. LeMari Porter, an international studies major from Kansas City, Missouri, shared photos from his study-abroad trip to Spain. Photo by Nicholas Benner.
8. We played with a puppy on Speakers Circle.
Puppies with Purpose, a nonprofit organization through which Mizzou students help puppies to become service dogs, held an event on Speakers Circle Wednesday, Nov. 18. Tigers got in some stress-relieving puppy cuddles, and South Paw, a yellow lab, got some attention from students, such as junior Claire Schlimm. Photo by Tanzi Propst.
9. We studied. A lot.
The end of the semester is rapidly approaching, and finals are right around the corner. Students in Ellis Library completed projects and crammed through the night. Lujie Qi and Ruoying Shen, hospitality management majors from China, took a moment to share a laugh. Photo by Nicholas Benner.
10. We gave thanks for future Tigers.
Mizzou's Child Development Lab, a combined child care program and research lab, held its annual Thanksgiving feast Wednesday, Nov. 18, inviting parents and friends to join in the fun. Mizzou student McKenna Mitchell, a senior majoring in human development and family studies, helped facilitate the learning and bonding. Photo by Rob Hill.
11. We built and rebuilt.
After the rain let up, Tigers got back to work on the renovation and repair of Lafferre Hall. Construction workers made a continuous pour of concrete on the second floor Thursday, Nov. 19. The new construction replaces old sections of the MU engineering complex built in 1935 and 1944. Photo by Rob Hill.
12. We chose new student leaders.
Students elected Haden Gomez and Christopher Hanner to the offices of Missouri Students Association president and vice president. The elections, originally scheduled for Nov. 9-11, were postponed until Nov. 18-19, with the winners announced Thursday night on Traditions Plaza. Gomez and Hanner garnered 2,590 of the 5,620 votes cast. They take office next semester. Photo by Michael Cali.