Story by Ryan Gavin
Published Feb. 5, 2015
It's been a busy year for Tigers celebrating Mizzou's 175th anniversary! Be sure to share your favorite memory with the Mizzou Alumni Association for a chance to win a $175 gift card from The Mizzou Store. Bid in an online auction for a 175th anniversary street pole banner. And don't forget to sign the flag to commemorate being a part of this grand celebration. The anniversary year ends Feb. 11, Founders Day 2015.
1. We started with a bang.

Founders Day 2014 included commemorative anniversary shirts, an appearance by three consecutive MU chancellors and a grand entrance by Truman the Tiger. Oh, and an incredible cake decorated to look like Jesse Hall and the Columns. Our new commercial featuring many of our favorite Tigers hit the airwaves.
2. And took time to reflect.

Tigers from all walks of life shared what Mizzou means to them, and we looked back on our legacy at 175 years. Thanks to our founding families, there were many stories of how Mizzou has become a global leader in teaching and research. We put together a timeline to chronicle it all and published an anniversary book.
3. We rocked a new style.

Art professor Deborah Huelsbergen was commissioned to create a signature Mizzou paisley in honor of our 175th anniversary. She jumped at the chance to design it, and Tigers love the new pattern.
4. We celebrated bridled enthusiasm.

We were chomping at the bit to honor the 30th anniversary of our mule team. Tim and Terry, our Missouri Mules, are the third pair of ambassadors we've had.
5. We hosted a Pulitzer winner.

Jon Meacham, author of Thomas Jefferson: The Art of Power, addressed an audience at the Missouri Theatre. Meacham is a Pulitzer Prize-winning author, executive editor at Random House and former editor of Newsweek.
6. And we monkeyed around.

Figuratively. Jane Goodall, the world-famous anthropologist, primatologist and UN Messenger of Peace, spoke to a crowd of nearly 5,000 people at Mizzou Arena. Her talk was part of the Delta Gamma Foundation Lectureship in Values and Ethics, and she also signed copies of her new book, Reason for Hope: A Spiritual Journey.
7. We hosted education leaders.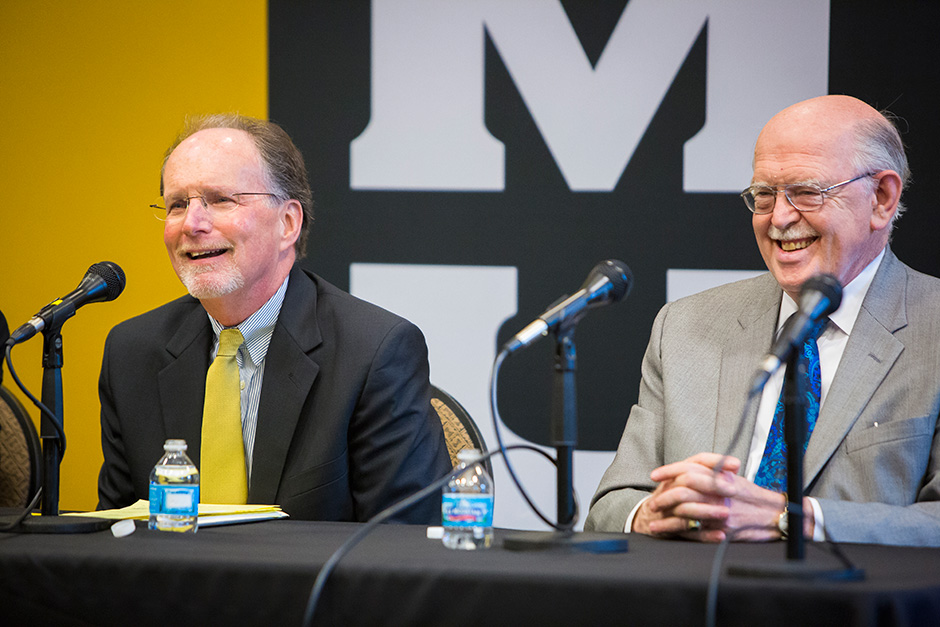 Mizzou welcomed Peter McPherson, president of the Association of Public and Land-Grant Universities, and Kevin Reilly, the American Council on Education Presidential Adviser for Leadership. They warned of the danger in losing the United States' competitive economic edge and the ripple effects of insufficient funding for university research.
8. We installed our chancellor.

Mizzou's 22nd leader took the reins with a spectacular procession and ceremony. We even got keepsake: the new ceremonial mace!
9. We lit up the Columns.

Mizzou put on a light show to re-create the fire that destroyed Academic Hall and gave birth to our beloved Columns.
10. And lit up the night.

Spotlights shined brightly throughout the week to mark our proud history.
11. We created a new landmark.

Mizzou dedicated the new campus icon Traditions Plaza at Homecoming. And we even included a time capsule to be opened in 100 years. Some romantic Tigers got creative, incorporating adorable proposals into the bricks!
12. Now we're looking forward to 200.

The celebration isn't over yet! Share your favorite memory for your chance to win a $175 gift card from The Mizzou Store. And don't forget to sign the flag to mark your place in our history. We'll unveil it at our 200th anniversary!