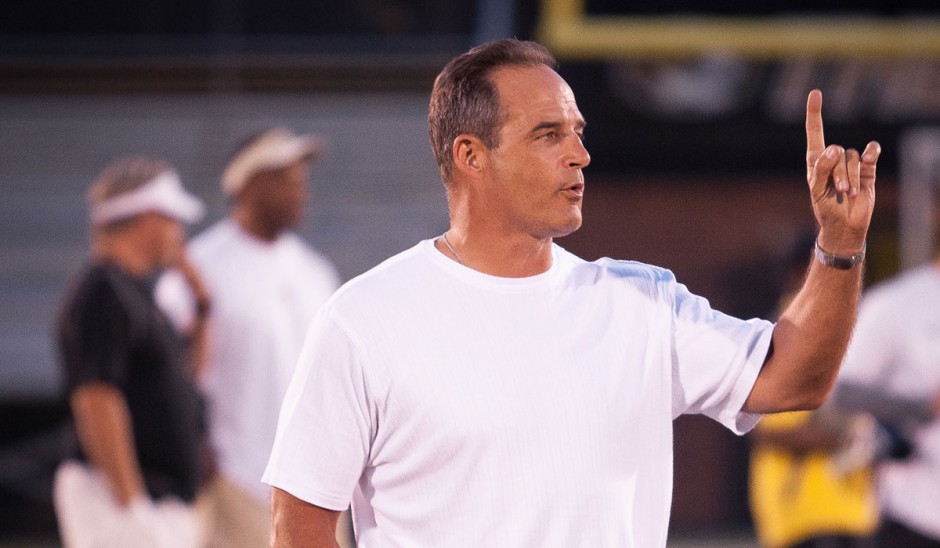 On Saturday the Mizzou football team beat Arkansas State 41-19 as the Tigers improved to 4-0 this season. And while winning the game was important to the team — the Tigers have won at least eight games every year they've started 4-0 — it was particularly significant to coach Gary Pinkel.
The victory gave Pinkel 94 wins at Mizzou, surpassing icon Dan Devine's 93. It's the second-most wins for a Mizzou coach in the university's history, behind Don Faurot's 101.
"I have tremendous respect for Dan Devine," Pinkel says. "I had the chance after I got the job to talk to him on the phone for a little while. That meant a lot to me. I met him once years and years ago. Just to have your name thrown up there with theirs is a tremendous honor."
Pinkel, in his 13th season, matched Devine's 13-season total, earned from 1958 to 1970. Though both coaches developed winning legacies at Mizzou, their paths to success were quite different.
Devine joined the Tigers after going 27-3-1 in three seasons at Arizona State College (now Arizona State University). He took over for Frank Broyles, who'd spent a year at Mizzou before departing for Arkansas. Before him was Don Faurot. Success was expected, but Devine managed to go above and beyond.
Devine compiled a 93-37-7 record, and he took Mizzou to six bowl games, winning four. Devine also served as athletic director from 1966 to 1970, and he signed men's basketball coach Norm Stewart. After enjoying so much success with the Tigers, Devine left to become the head coach of the Green Bay Packers and, later, coach at the University of Notre Dame.
Pinkel had enjoyed success at the University of Toledo, but the Tigers were in bad shape when he was hired following the 2000 season — and had been for decades. Mizzou had made only two bowl appearances since 1984 and hadn't won more than eight games in a season since Devine had nine in his penultimate season.
Preaching family and loyalty, Pinkel turned the ship around. Every former Tiger quarterback under Pinkel is in the NFL, and Pinkel also has produced Pro-Bowl talent at several other positions. The Tigers have been to eight bowls in 11 seasons, winning half of them. And Mizzou has won at least 10 games in three seasons, something accomplished only once before in Tiger history; Devine led Mizzou to an 11-0 record in 1960.
Pinkel and the Tigers won't have time to enjoy this milestone. Mizzou is about to enter its second season of Southeastern Conference play with no easy games on the schedule ahead.
"It's all about getting better," Pinkel says. "We're excited to get into SEC play and get going. … We're excited we're 4-0, but we can definitely get better."
For Tigers who like to dream: Pinkel is seven wins behind Faurot, with eight more games left this season.